Jinghe Li 1,2, Ryota Inoue 1,2, Yu Togashi 2, Tomoko Okuyama 2, Aoi Satoh 1, Mayu Kyohara 2, Kuniyuki Nishiyama 1,2, Takahiro Tsuno 1,2, Daisuke Miyashita 2, Tatsuya Kin 3, A.M. James Shapiro 3, Resilind Su Ern Chew 4, Adrian Kee Keong Teo 4,5, Seiichi Oyadomari 6, Yasuo Terauchi 2, Jun Shirakawa 1,2,* (1. Laboratory of Diabetes and Metabolic Disorders, Institute for Molecular and Cellular Regulation (IMCR), Gunma University, Japan; 2. Department of Endocrinology and Metabolism, Graduate School of Medicine, Yokohama City University, Yokohama 236-0004, Japan; 3. Clinical Islet Laboratory and Clinical Islet Transplant Program, University of Alberta, Edmonton, AB T6G 2C8, Canada; 4. Stem Cells and Diabetes Laboratory, Institute of Molecular and Cell Biology (IMCB), A*STAR, Proteos, Singapore 138673, Singapore; 5. Department of Biochemistry and Department of Medicine, Yong Loo Lin School of Medicine, National University of Singapore (NUS), Singapore 117596, Singapore; 6. Division of Molecular Biology, Institute of Advanced Medical Sciences, Tokushima University, Kuramoto, Tokushima 770-8503, Japan.; *, Corresponding Author)
About
In this study, we have discovered a novel mechanism that protect human β-cells.
The effects of imeglimin, a novel anti-diabetes agent, on β-cell function remain unclear. Here, we unveiled the impact of imeglimin on β-cell survival. Treatment with imeglimin augmented mitochondrial function, enhanced insulin secretion, promoted β-cell proliferation, and improved β-cell survival in mouse islets. Imeglimin upregulated the expression of endoplasmic reticulum (ER)-related molecules and decreased eIF2α phosphorylation and restored global protein synthesis in β-cells under ER stress. Imeglimin failed to protect ER stress-induced β-cell apoptosis in CHOP-deficient islets or in the presence of GADD34 inhibitor. Treatment with imeglimin showed a significant decrease in the number of apoptotic β-cells and increased β-cell mass in Akita mice. Imeglimin also protected against β-cell apoptosis in both human islets and human pluripotent stem cell (hPSC)-derived β-like cells. Taken together, imeglimin modulates ER homeostasis pathway, which results in the prevention of β-cell apoptosis both in vitro and in vivo.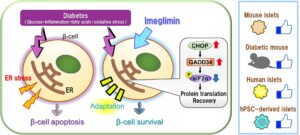 Paper information
Imeglimin ameliorates β-cell apoptosis by modulating the endoplasmic reticulum homeostasis pathway. Li J, Inoue R, Togashi Y, Okuyama T, Satoh A, Kyohara M, Nishiyama K, Tsuno T, Miyashita D, Kin T, Shapiro AMJ, Chew RSE, Keong Teo AK, Oyadomari S, Terauchi Y, Shirakawa J. Diabetes. 2021 Sep 29:db210123. doi: 10.2337/db21-0123.
Online URL
https://pubmed.ncbi.nlm.nih.gov/34588186/
Lab HP