Okunishi K(1)*, Wang H(1), Suzukawa M(2,3), Ray Ishizaki(1), Eri Kobayashi(1), Miho Kihara(4), Takaya Abe(4), Jun-ichi Miyazaki(5), Masafumi Horie(6), Akira Saito(6), Hirohisa Saito(7), Susumu Nakae(8) and Tetsuro Izumi(1)* (1. Laboratory of Molecular Endocrinology and Metabolism, Department of Molecular Medicine, Institute for Molecular and Cellular Regulation, Gunma University; 2. National Hospital Organization Tokyo National Hospital; 3. Division of Respiratory Medicine and Allergology, Department of Medicine, Teikyo University School of Medicine; 4. RIKEN Center for Biosystems Dynamics Research; 5. The Institute of Scientific and Industrial Research, Osaka University; 6. Department of Respiratory Medicine, Graduate School of Medicine, The University of Tokyo; 7. National Research Institute for Child Health and Development; 9. The Institute of Medical Science, The University of Tokyo) *, corresponding authors
About
Allergic asthma is a chronic inflammatory airway disease, and its incidence is steadily increasing. The most common treatment is topical inhaled corticosteroid application which, while effective, is only temporarily effective and do not provide a cure for asthma. To move towards a cure, we must better understand the underlying pathophysiology of this process.
In the current study, we clarified that exophilin-5, a Rab27 binding protein, was predominantly expressed in both the major IL-33 producers, lung epithelial cells, and the specialized IL-5 and IL-13 producers in pathogenic Th2 cell population in mice. Exophilin-5 deficiency increased IL-33 secretion of lung epithelial cells as well as IL-5 and IL-13 production from a specific subset of pathogenic Th2 cells that expresses a high level of IL-33 receptor, which resulted in exacerbation of allergic airway inflammation in a mouse model of asthma. Mechanistically, exophilin-5 regulates IL-33 release by keeping epithelial cell integrity and IL-33-depedent overactivation of pathogenic Th2 cells by controlling intracellular traffic of Nox2-containing vesicles. This is the first report to establish the significance of exophilin-5 in the exacerbation of allergic airway inflammation, and provides new insights into the pathophysiology of asthma.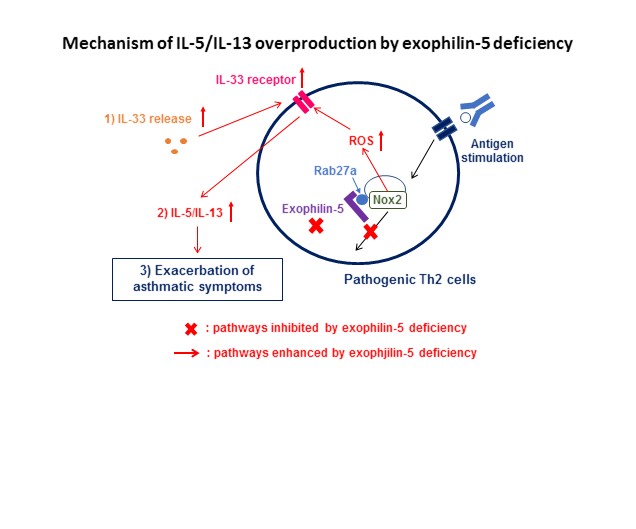 Paper information
Exophilin-5 regulates allergic airway inflammation by controlling IL-33-mediated Th2 responses. Okunishi K, Wang H, Suzukawa M, Ishizaki R, Kobayashi E, Kihara M, Abe T, Miyazaki JI, Horie M, Saito A, Saito H, Nakae S, Izumi T. J Clin Invest. 2020 Apr 2:127839. doi: 10.1172/JCI127839. Online ahead of print.
Online URL
https://pubmed.ncbi.nlm.nih.gov/32240120
Lab HP