Location
3-39-15 Showa-machi, Maebashi 371-8512 ZIP: Gunma University Institute for Molecular and Cellular Regulation
Phone

Gunma University (representative) :027-220-7111

General Affairs Section, Institute for Molecular and Cellular Regulation :027-220-8822

FAX
General Affairs Section, Institute for Molecular and Cellular Regulation:027-220-8899
Mail Address
kk-msomu4@jimu.gunma-u.ac.jp
※This website is managed by the Website Committee of IMCR, Gunma University. Please contact the above e-mail address for any qustions about our Website.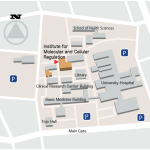 Detailed map of the campus here
Access
By JR

Take the Joetsu Sinkansen Line train to Takasaki. From there about 30 min by taxi. Alternatively, change at Takasaki to the Ryomo Line and go to Maebashi Station. From Maebashi station about 4 km in the north direction. About 15 min by bus or 10 min by taxi.

Or take the Joetsu Line train at Takasaki station to Shin-Maebashi station. From there north 5 km about 10 min by taxi.

By car
Take the Kan-Etsu Tollway to Maebashi Interchange. From there about 15 min on the ordinary road.