The Institute for Molecular and Cellular Biology, Gunma University held an online conference, "The 15th International Symposium of the Institute Network for Biomedical Sciences : Cutting Edge of Biomedical and Metabolic Sciences" on November 5-6, 2020.
The online symposium was attended by 352 domestic and international researchers (197 on the first day and 155 on the second day), including three distinguished keynote speakers.
Despite the virtual symposium in the midst of the COVID-19 pandemic, the lively and stimulating discussions among the participants resulted in a successful and fruitful conclusion.
We would like to express our deepest gratitude to all those who contributed to the symposium.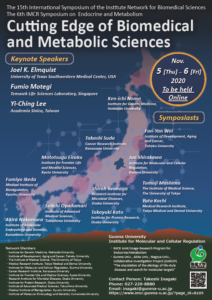 The 15th International Symposium of the Institute Network for Biomedical Sciences
    Cutting Edge of Biomedical and Metabolic Sciences
To be held Online, November 5 (Thu), 2020 JST 9:00 ~ November 6 (Fri), 2020 JST 15:00
President:Takeshi Inagaki
Organizing Committee Chair:Hiroshi Shibata
Poster here → final20200916_A4
URL: https://www.imcr.gunma-u.ac.jp/?page_id=8105&lan=en