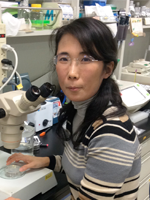 Professor:Miyuki Sato
m-sato*gunma-u.ac.jp
(*=@)
Lab website
http://makukinou.showa.gunma-u.ac.jp/index.html
Member
Professor: Miyuki Sato
Research Fellow: Taeko Sasaki
Assistant Technician: Naomi Terawaki
Research
Eukaryotic cells are composed of many membrane-bound organelles, and the shape, composition, and functions of these organelles are dynamically regulated under various conditions through membrane trafficking.  The aim of our research is to understand the molecular mechanisms of membrane trafficking and its physiological roles in animal development.  We are especially interested in mechanisms and functions of endocytosis and autophagy in C. elegans embryos.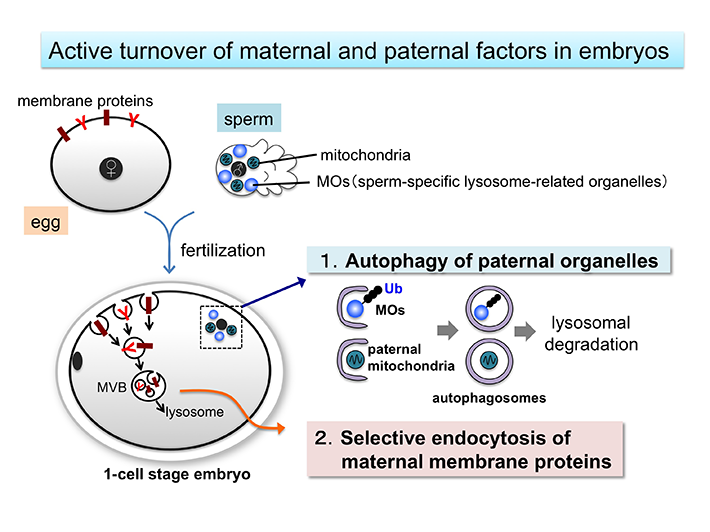 On-going projects
Selective degradation of paternal mitochondria by autophagy.
Endocytic degradation of maternal membrane proteins in embryos.
Keywords
Membrane trafficking, Autophagy, Endocytosis, Lysosome, Metabolism, Development, C. elegans, Fertilization, Mitochondria
Select References
Sato M. et al. (2018)  Nature Cell Biol 20(1):81-91
Sato M. et al. (2014)  Development  141(6):1324-31.
Sato M. and Sato K. (2013) Biochim. Biophys. Acta  1833(8):1979-84.
Sato M. and Sato K. (2011)  Science 334(6059):1141-4.
Sato M. et al. (2011)  Mol. Biol. Cell 22(14):2579-87.