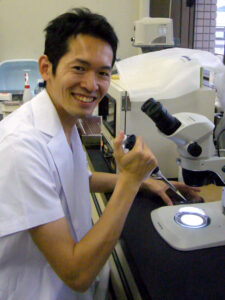 Professor : Jun Shirakawa
jshira*gunma-u.ac.jp
(*=@)
Lab website
https://diabetes.imcr.gunma-u.ac.jp/
Member
Professor: Jun Shirakawa
Associate Professor: Koichi Sato
Assistant Professor: Yoshio Hoshiba
Administrative Assistant: Fuyumi Murai
Research
The lab is investigating the pathophysiology of pancreatic islets and other metabolic organs. We are using integrating top-down and bottom-up approaches to identify the clues to the development of therapeutic strategies for diabetes or metabolic disorders. Areas of interest include islet cell growth factors, cell fate determination in endocrine pancreas, metabolic inflammation, inter-organ communication, plasticity of human islet cells, and diabetes therapy.
On-going projects
Regulation of β-cell functions in human islets.
Inflammation and organ networks to modulate metabolism.
Pathophysiology of metabolic disorders in human and animal models
Keywords
pancreatic β cells, human islets, biomarkers, humoral factors, organ networks, cell division, apoptosis, transdifferentiation, diabetes, obesity, fatty liver, adipose tissue inflammation.
Select References
Shirakawa J. et al. (2020) Diabetologia 63(3):577-587.

Ji Y. et al. (2019) Nat Immunol. 20(6):677-686.

El Ouaamari A. et al. (2019) J Biol Chem. 294(3):1059-1069.

Jungtrakoon P. et al. (2019) Diabetes. 68(5):1084-1093.

Inoue H. et al. (2018) J Biol Chem. 293(16) 5934–5946.

Arai M. et al. (2018)

Diabetes Care. 41(9):e130-e132.

Kyohara M. et al. (2017) Endocrinology. 158(12):4152-4164.

Kawamori D. et al. (2017) Diabetologia 60(8):1442-1453.

Okuyama T. et al. (2017) Sci Rep. 7(1):2364.

Shirakawa J. et al. (2017) Cell Metab. 25(4):868-882.