Professor : Tetsuro Izumi ( M.D., Ph.D.)
tizumi*gunma-u.ac.jp
(*=@)
Lab website
http://molend.showa.gunma-u.ac.jp/eng/
Member
Professor: Tetsuro Izumi
Associate Professor: Katsuhide Okunishi
Assistant Professor: Kohichi Matsunaga
Assistant Professor: Kouichi Mizuno
Assistant Professor:Hao Wang
Technical Officer: Takeshi Ushigome
Assistant Technician: Takae Nara
Assistant Technician: Eri Kobayashi
Secretary: Sachiko Shigoka
Graduate Student: Kunli Zhao
Graduate Student: Min Zhao
Research
To understand the physiopathology of multicellular organisms, it is important to know how differentiated cells communicate each other to regulate their function as a whole body. Regulated exocytosis is one of the major means for cell-cell communication, and its impairment leads to many diseases. Among highly differentiated secretory cells, we particularly focus on pancreatic beta cells, adipocytes, and immune cells, the disorders of which result in the development of endocrine, metabolic, and immune-mediated diseases such as diabetes, obesity and asthma. We investigate the basic biology and pathology of these cells both in vitro and in vivo by using varying techniques of genetics, molecular biology, biochemistry, cell biology, histochemistry, and physiology.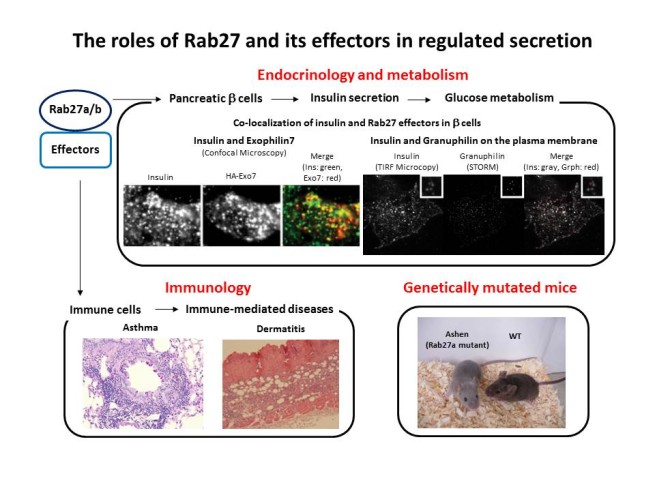 On-going projects
Molecular and morphological analyses of insulin granule exocytosis.
In vitro and in vivo function of the small GTPases, Rab27a and Rab27b, and their effectors, exophilins, in regulated secretory pathways in endocrine, exocrine, immune, and respiratory cells.
Molecular mechanism of adipose fat accumulation by the ALK7-signaling pathway.
Keywords
Regulated exocytosis, Membrane trafficking, Secretory granule, Pancreatic beta cell, Fat accumulation, Insulin, Cytokine, Metabolism, Immunology, Respiratory disease
Select References
Fan F. et al. (2017) Elife. 6.e.26174
Matsunaga K. et al. (2017) J.Cell Sci. 130:541-550
Mizuno K. et al. (2016) Sci. Rep. 6:23909.
Wang H. et al. (2013) Mol. Biol. Cell 24:319-330.
Yogosawa S. et al. (2013) Diabetes 62:115-123.
Xu X. et al. (2012) Cell 148:596-607.
Wang H. et al. (2011) J. Biol. Chem. 286:32244-32250.
Mizuno K. et al. (2011) Mol. Biol. Cell 22:1716-1726.
Bu Y. et al. (2018) Diabetes 67:1761-1772